Due to increased demand, we temporarily have reduced product selection available for delivery to your region. We are working to improve selection availability as soon as possible.
Designed for all activities:Supporting the thumb joints and ligaments, the Vive thumb brace restricts the movement of the thumb while supplying adjustable compression and retaining therapeutic heat to improve circulation and promote healing. The lightweight brace allows the full use of the remaining fingers so you can complete daily tasks with ease.

Reduces Pain and Inflammation:Adjustable compression brace effectively reduces pain and inflammation due to injury or surgery. Great support brace for managing arthritis, carpal tunnel, repetitive stress injury, post-surgery, sprains and strains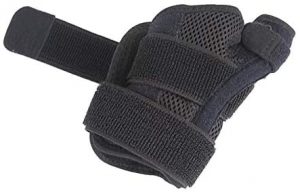 Removable Splints for Flexible Use:Isolating the thumb in a neutral position, the brace includes two ergonomically designed aluminum splints for maximum support and immobilization of the thumb. The lightweight metal splints are removable for supporting the thumb during activities that require more flexibility and for properly cleaning the thumb brace.

Exceptional Support for Injury Recovery,Arthritis,Carpal Tunnel,Repetitive Stress, Injury Post-Surgery,Strains & Sprains

Versatile Lightweight Design:The neoprene is breathable, keeping your hand cool and comfortable for extended wear, even while you sleep. Reverible Design:Fully adjustable, the lightweight neoprene brace can be worn on either the left or right hand. Three extra strength fastener straps adjust to accommodate any hand size without slipping or bunching.
Product description
Feature:
Increase ability hold of hand;
Protect hands from calluses and blisters
Reduce the pressure on the hands
Open-toed gloves, help fingers more flexible in movement
Function:
Put thumb into loop and let the product hang
Wrap the middle strap around the wrist to desired firmness
Wrap the upper strap around the wrist to desired firmness
Adjust straps for comfort and secure grip
Caution:
Some individuals may be sensitive to neoprene based fabrics.
If a rash develops discontinue use and consult a physician
Washing Intructions:
Hand wash in warm water.
Lay brace on a flat surface and air dry only
Product details
Shipping Weight: 1.9 ounces
ASIN: B084QN464V
UPC: 880814540042

Important information
Legal Disclaimer
Statements regarding dietary supplements have not been evaluated by the FDA and are not intended to diagnose, treat, cure, or prevent any disease or health condition.