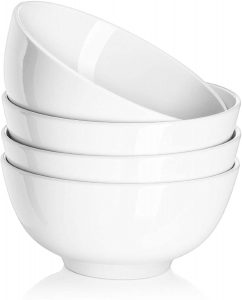 Versatile Bowl. A deep and lightweight 22oz(6-inch width) bowl set is perfect for cereal, soup, nuts, salad, fruit, rice and noodle without spillage. Perfect for family dinners, food storage, breakfast oatmeal, restaurant service, party and holiday gifts.

Healthy Porcelain. Unlike other materials, ceramic bowls have no harmful plastics, cadmium or Lead. Never worry about harmful substance leaching into your food. Microwave, dishwasher, oven and refrigerator safe.

Lightweight and Durable. These cereal bowls is designed with space-saving style and smooth round edges. They are light to hold even for kids. Super sturdy and durable with long-lasting material blocking moisture absorption.

Kitchen Ready. Stacks compactly and free up enough space for other dining set in the kitchen cabinet. Classic bright white bowls match most existing dinnerware. The smooth and anti-scratch glazed interior is easy to clean.

Microwave & Dishwasher & Freezer & Oven Safe. Dowan bowls stand up to accidental bumps and tumbles, keeping them chip-free, and looking brand-new for years to come. They can take the heat, whether it be in the dishwasher, microwave or oven.